Welcome to this centralized hub for the upcoming shoot. Please review the information carefully. Let's have fun and create great content while at it.  Digital copies of the release forms are included here for your review. Printed copies will be available on the day of the shoot.
Goal: To support and promote each other by working together and contributing 
Important: This is an invite only shoot. All project information is confidential and is meant only for the team members. Information must be used only for the purposes directly related to this shoot.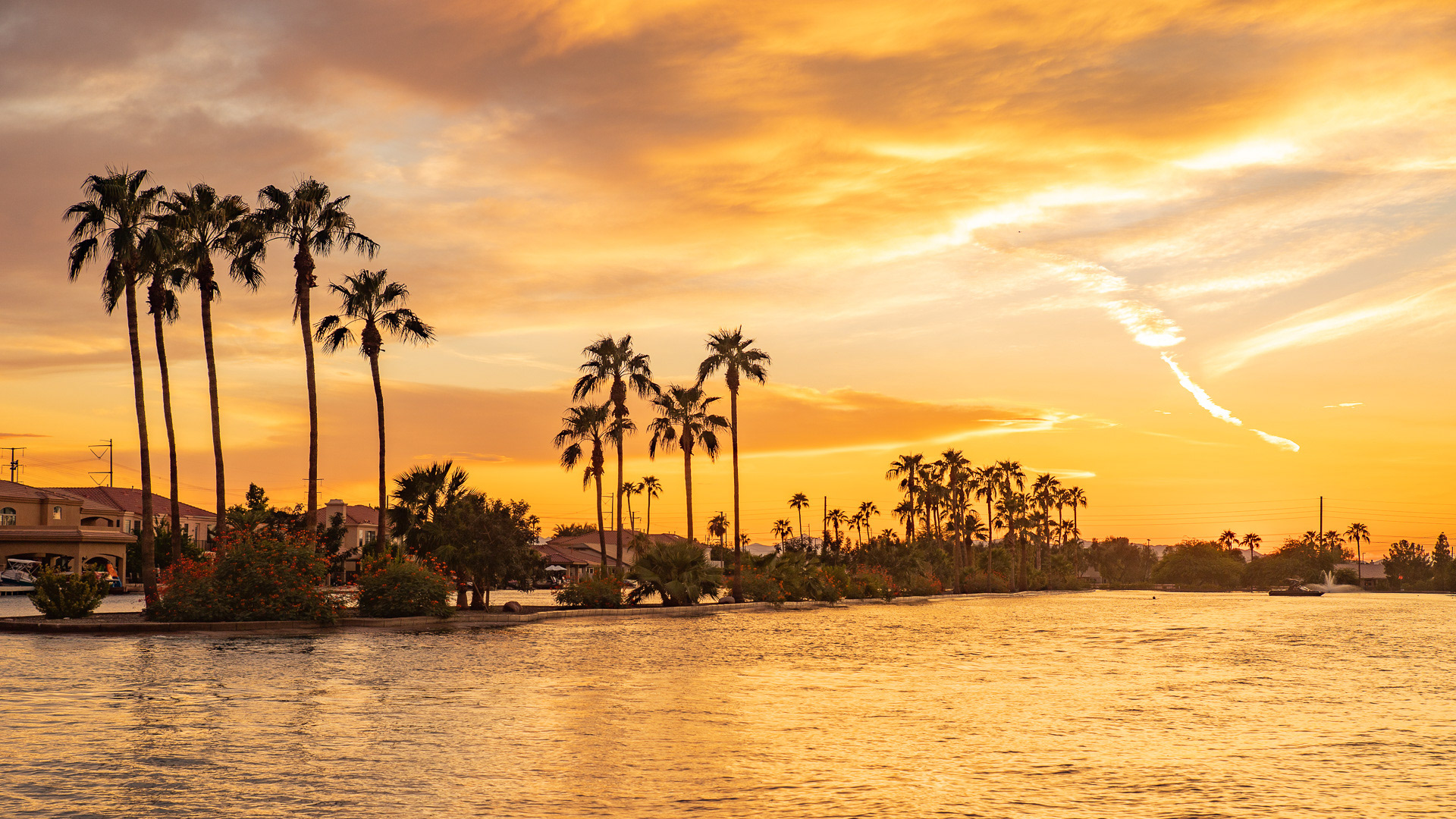 Address:
 568 N Acacia Dr.
 Gilbert, AZ 85234
Directions: From N McQueen Road, go east on Juniper Ave. Turn right on Hobson Street. Gate code is #5555. Once through the gates, left on Laurel Ave and then right on Acacia Drive.
Parking: Sufficient dedicated and street parking at the location
Call time:
Please arrive at 12 noon on 12/26 (Sunday)
Creative Director:
 Svetik Sambell


  @svetikhautecouture
  @svetikshautecouture
Project Manager & Logistics Lead:
 Manish Sharma


  (480) 720-4566
Photographer(s):
 Manish Sharma


  @cnsphoto
Model(s):
 Gordon Grimm


  @gordongrimm_


 Jaidyn Jaacks

(Minor)




  @jaidynrose7214


 Deity H Taylor


  @deityheart
 Miriah Schneider


  @miriahks
Hair and Makeup:
 Alvin Moyer
 

@alvinmoyer2378


 Melissa Orlando


  @artistryby_melissao
Floral Designer:
 Anna Day
 

@anna_day_designs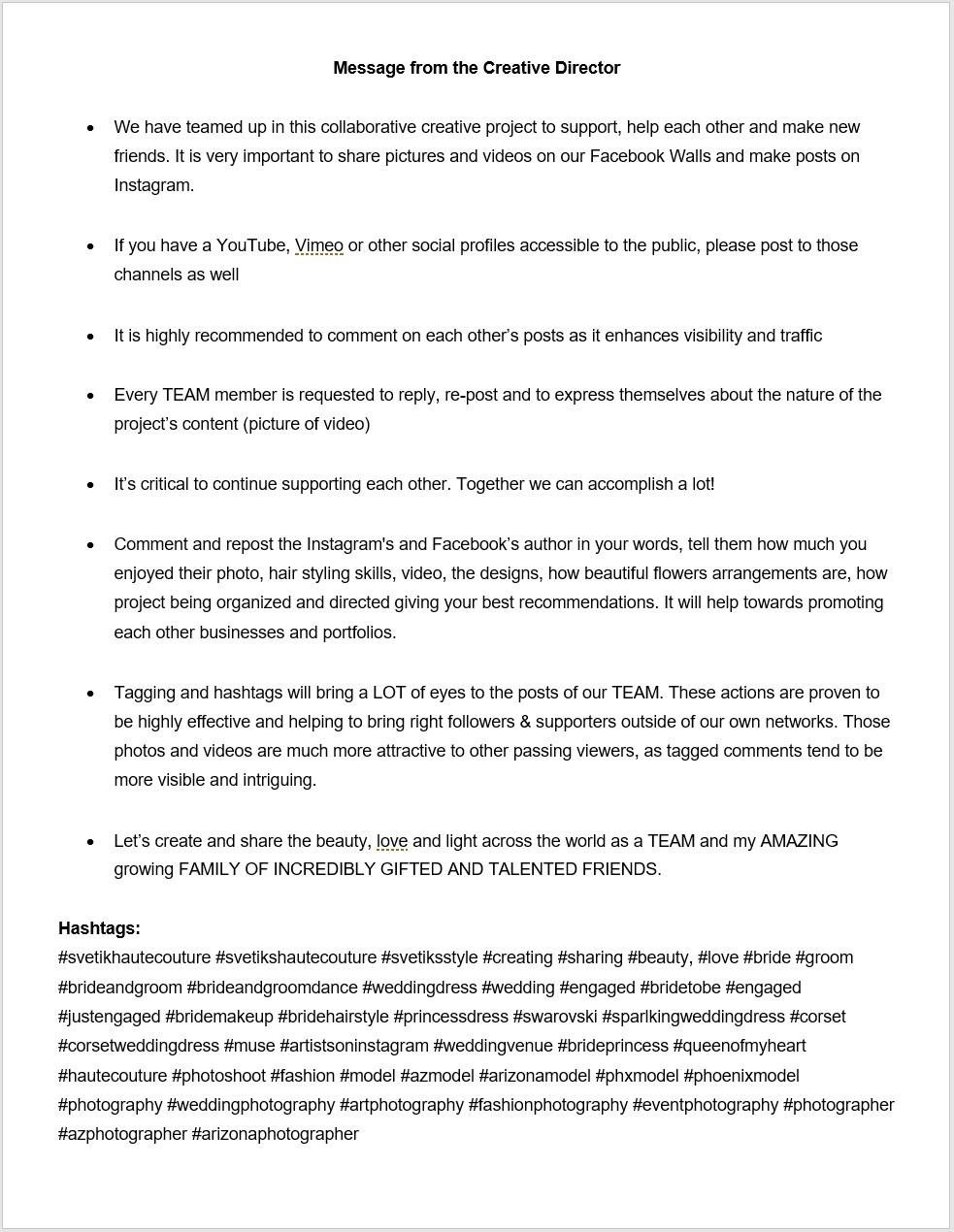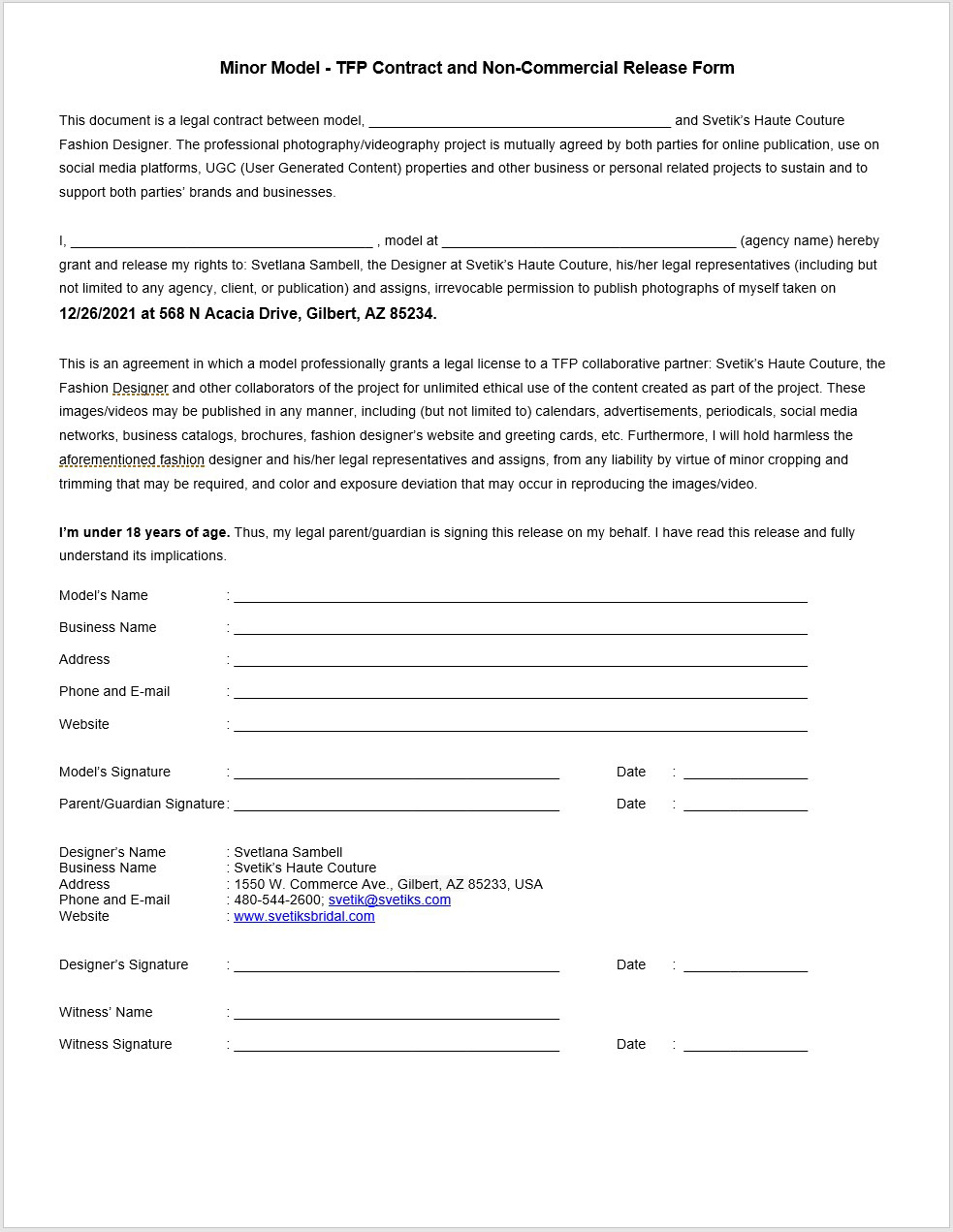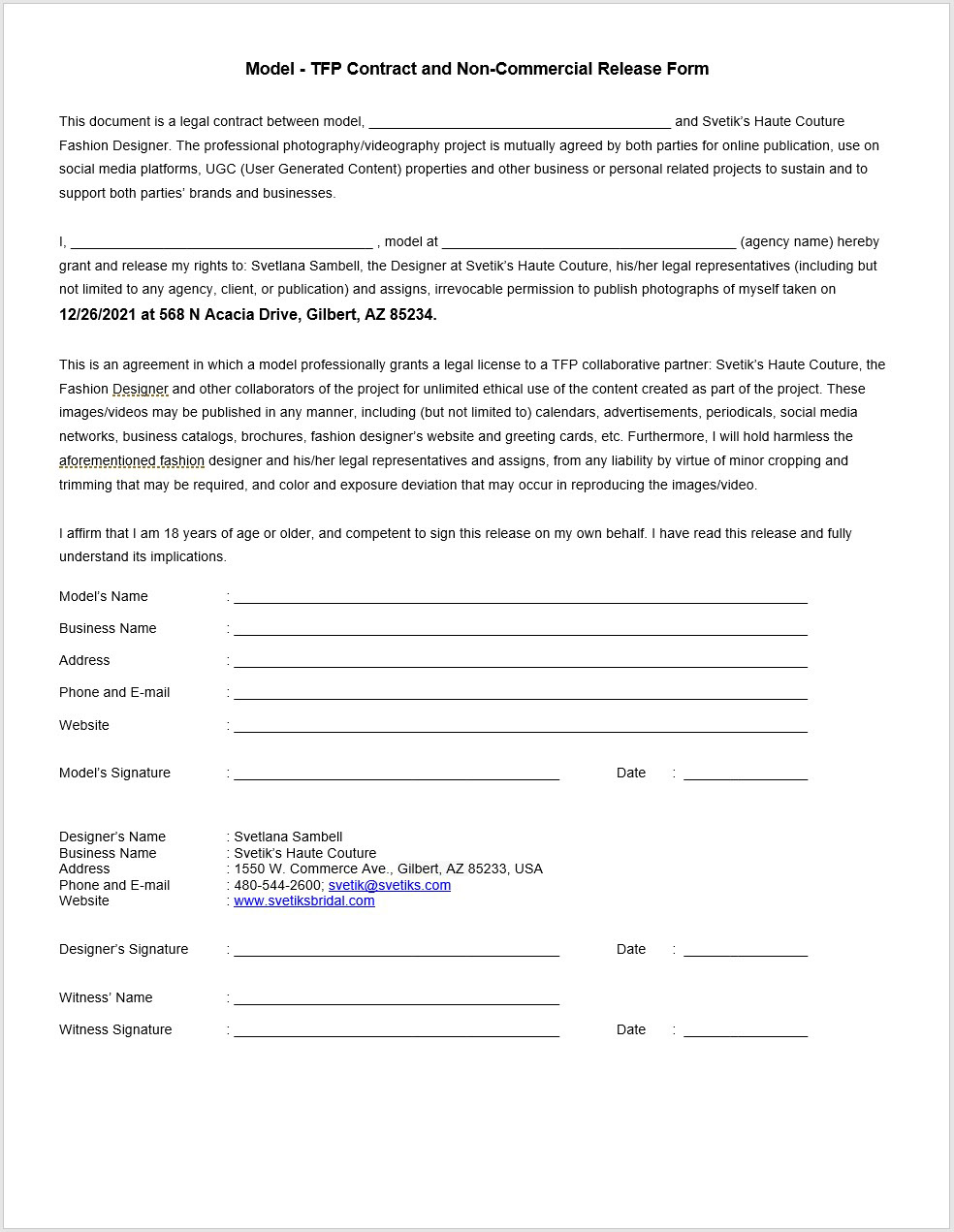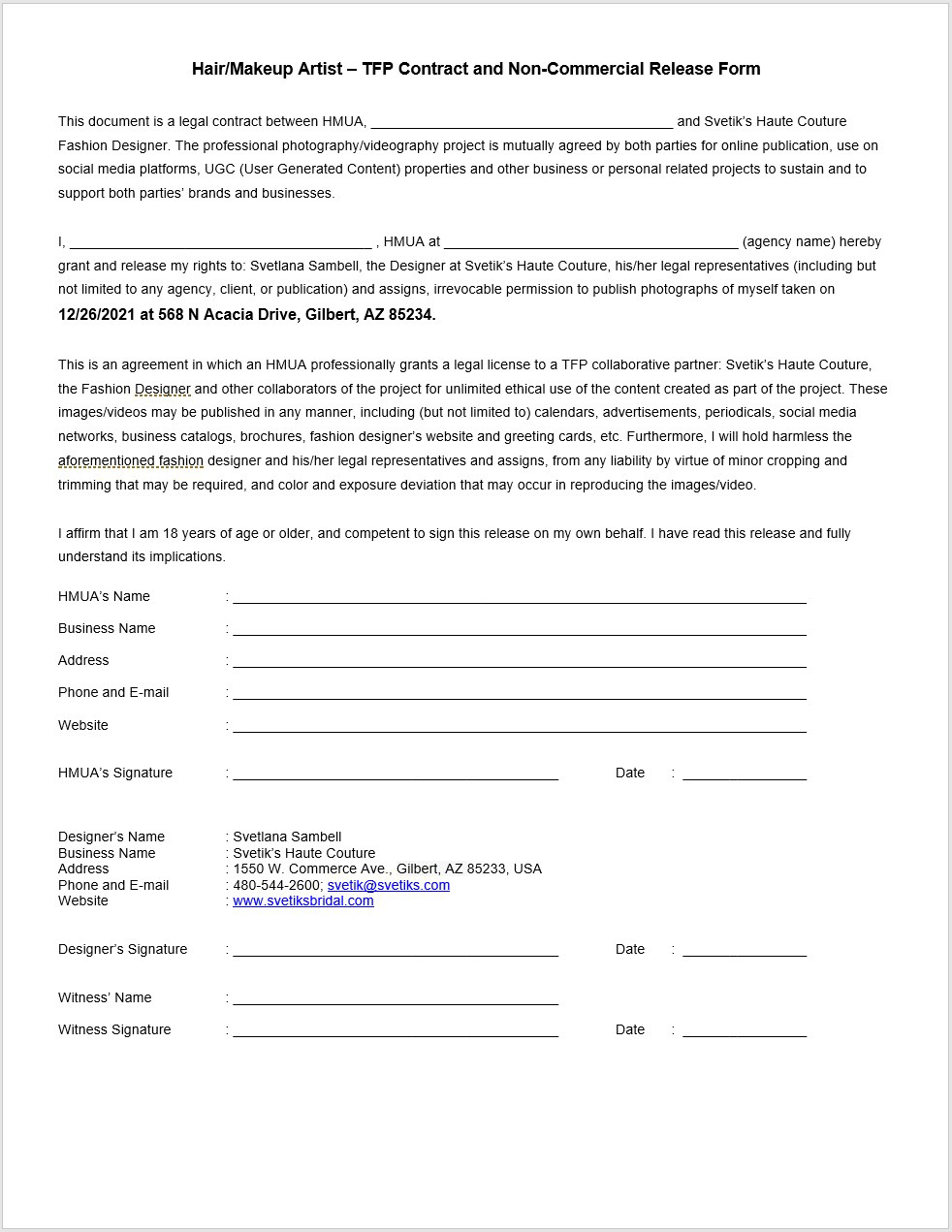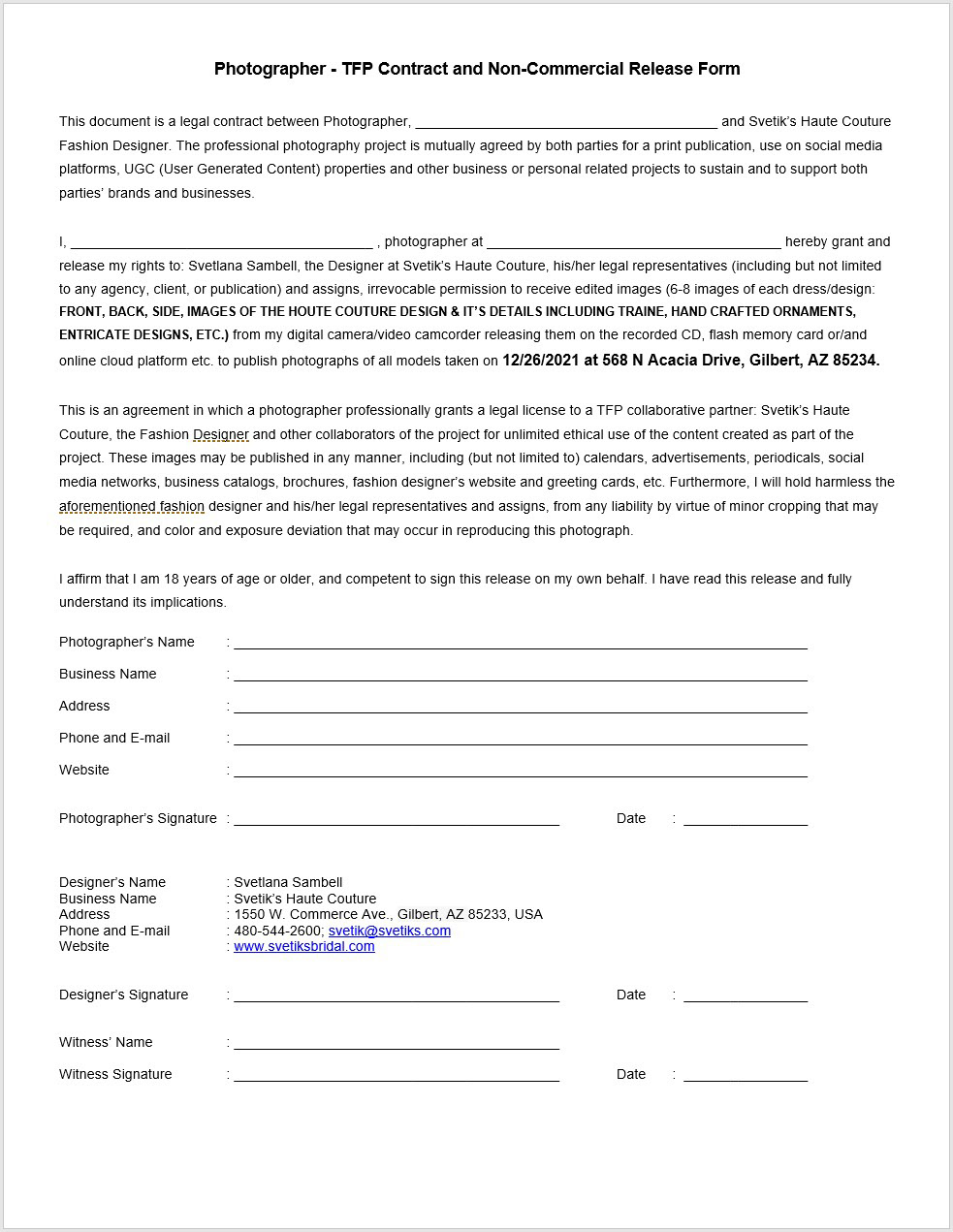 Q. What happens if there is a last minute change in my schedule and I can't make it?


A. Although it is preferred that all team mates are 100% committed, we understand that life happens. Please inform us as soon as possible and be prepared to suggest a substitute.
Q. Will there be food or drinks?


A. Some shoots will have a vendor providing refreshments or/and drinks. If that's the case, they will be included in the team roaster. It is always a good idea to pack some snacks and water bottles.
Q. What should I bring?


A. Model specific instructions will be posted here or in the group chat. In general, bring comfortable shoes, heels (nude/white for female dresses) and lots of positive energy.
Q. After the shoot: What should I expect? What is expected from me?


A. Shooting day is tiring and demanding. Once done, you may expect/post some BTS stories on social media in following days/weeks. Official pictures are usually released in about 3 weeks. If there is a videographer on the team, edited film is released in about a month. Once content is released, you're free to post on social media, use in your portfolio and brag about it. Since this a collaboration with the intent to promote/support each other, all team members are encouraged to share. When sharing, remember to include due credit to all team mates.
Q. What if I have more questions?


A. Usually a group chat is in place for every shoot. Feel free to ask in the group or send a private message to the project manager.